OUR SOLUTIONS
Far more than just a commercial roofing contractor, Maxwell is a full-service partner for the entire lives of our customers' buildings.
Customers save money and enjoy streamlined service when the people who build the roof are also the people who service and maintain it — but the benefits of working with Maxwell go far beyond cost.
Consolidation of services generates an overall level of expertise and familiarity with every aspect of the job that single-service providers can simply never attain. We develop construction designs. We build and install. We fabricate our own sheet metal. We educate our customers and work with them to prolong the life of their roofs. We prevent problems with proactive maintenance. We fix problems through reactive maintenance. We advise, we counsel and we earn our reputation one relationship at a time, one job at a time.
Construction
Before you hire an architect, talk to Maxwell. We offer expert design services for free, and we assist in project development and budgeting. We're your partner from the very beginning of your commercial roof construction project, and we build each roof as if it were our own. Our project managers are the most competent and experienced in the industry. We obsess over safety, and insist on rooftop safety equipment like guard rails, anchor points, perimeter warnings, walkways and skylight guards. All of our technicians are trained in best practices for rooftop access equipment like ladders, stairs and hatches.
Among the manufacturer warrantied roof systems we install are:
Single-ply
Carlisle (EPDM, TPO, PVC)
Firestone (EPDM, TPO)
Johns-Manville (EPDM, TPO, PVC, KEE)
Sarnafil (PVC)
FiberTite (KEE)
DuroLast (PVC, KEE)
Modified bitumen and built up
Johns-Manville (SBS, BUR)
Firestone (SBS, BUR)
Siplast (SBS)
Soprema (SBS)
We can also install specialty green roof systems, rooftop solar systems and FM Global engineered systems.
Fabrication
By running our own sheet metal fabrication division, we save our customers time and money while ensuring the highest standard of quality. We perform custom architectural metal work with light gauge industrial sheet metal for ES-1 rated metal edge systems, standing seam roof systems and insulated wall panel systems.
We are experts in architectural metal roof systems and custom fabrication of aluminum, stainless steel, copper, prefinished steel and galvanized steel.
We also do specialty fabrication of:
Spires
Finials
Weathervanes
Cornices
Gutters
Column covers
As well as industrial fabrication of:
Safety guards
Containers
Volume pieces
HVAC curbs and adapters
Service
The gem of our service department is MAXCare, one of the most comprehensive roof management programs in the industry. We maintain a 24/7 emergency leak service hotline, but we also perform scheduled maintenance like quoted repairs, annual inspections, and gutter cleaning. Our warranty service includes warrantied alterations, repairs, inspections and storm damage assessment. We inspect and repair roof drainage equipment like scuppers, gutters and drains. We maintain a database and online web portal to collect and document every aspect of every customer's roof.

Bank of America – Downtown
26,000 SQFT
Project Manager, Keith Stiles, completed the 21-story reroof of the BoA in 2014.
Roof Manufacturer: John Manville
Roof System: PVC – Adhered
"We have been very pleased with roofing services, both repairs and new installation, provided by Maxwell Roofing. Our maintenance cost is lower than prior roofing contractors with fewer recall repairs. Service techs are very responsive and visual evidence is provided of potential sources of leaks prior to repairs. We look forward to a long term relationship with Maxwell Roofing"
-Michael Jacobs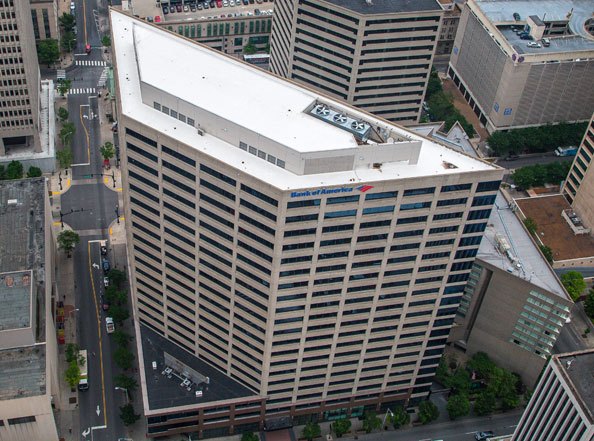 Service & Repairs
During any job, general contractors (GCs) have made a commitment to the building owner or…
---